This October, Centre Safe is shining  a light on domestic violence by illuminating the downtowns of Centre County in purple light as part of Domestic Violence Awareness Month.
Centre Safe volunteers and borough workers in Bellefonte, Millheim, Philipsburg and State College have partnered to string purple lights in popular downtown areas as a signal of solidarity with victims of domestic violence. Downtown businesses are also posting purple signs to help tell the story of domestic violence in the community.
Last year, Centre Safe helped empower 1,021 survivors of domestic violence in our community but the pandemic has caused concern that victims in quarantine are experiencing additional isolation and barriers to reaching out for services. Centre Safe hopes the installation will serve as a socially distanced way to bring awareness of these often-hidden crimes.
In Bellefonte, the courthouse and high street will be purple for October; Millheim will hang purple lights at the gazebo in Fountain Park; Philipsburg will illuminate the trees in front of borough building; and State College is decorating the 100 block of Allen Street and its municipal building.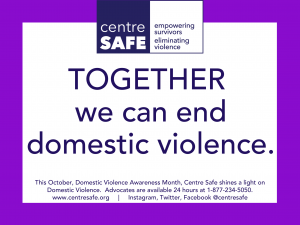 Follow us on Facebook, Instagram and Twitter for more updates and information!
Please direct any questions to smcpherson@centresafe.org