An Empty Place at the Table
October 1, 2021, 8:00 am - October 31, 2021, 5:00 pm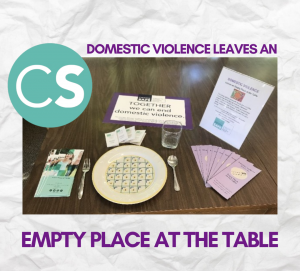 Domestic Violence has had a big impact on our community here in Centre County. You can learn more at our Empty Place at the Table settings across the county.
YMCA Empty Place at the Table Exhibit Schedule:
Moshannon Valley – 9/27-10/3
State College – 10/3-10/10
Bellefonte – 10/10-10/17
Penns Valley- 10/17-10/24
Empty Place at the Table Single Setting Displays
District Attorney's Office
Cool Beans, Bellefonte
Helen Foxx, Bellefonte
Bellefonte Library (pictured)
Gorgeous Hair Design, Bellefonte
Schlow Library, State College
Holt Memorial Library, Philipsburg
Gender Equity Center, PSU
St. Johns Episcopal Church, Bellefonte
3dots, State College
Willowbank Building, Bellefonte
If you or someone you care about is dealing with domestic or dating violence, help is available.
Call us anytime at 1-877-234-5050.
Confidential. Professional. Free.